«Life Rail» train stops in Aveiro Port
Between the 16th and 18th of April took place a board of a "CP Carga" train, along the Bobadela – Sines – Setúbal –Aveiro – Bobadela route, a LIFE RAIL Course of Maritime-Railroad Intermodality.

This was a unique opportunity to know at first hand the rail-port intermodality. The Course had the presence of the most important specialists in the sector; also had the collaboration of "CP Carga", CP, ENIDH (Nautical High School of Infante D. Henrique), IPTM, APA, APSS, APS e AGEPOR.


The stop in Aveiro Port was applauded by the 35 participants, as well by the organization. From the Aveiro city center until Oudinot Garden, the candidates had the chance to follow the rail connection from Aveiro Port, crossing South Terminal, NavalRia, Long Distance Fishing Port and the Port Train Screening Beams.

In the Oudinot Garden the entourage entered a boat to continue the visit, sailing through the Ria de Aveiro river, across all the Port Terminals.
Time to enter the Port maneuver basin, a privileged place to observe the North Terminal, the Containers Terminal and the Solid and Liquid Bulk Terminals.
The visit continued along the Ria de Aveiro in Aveiro direction, with one more passage along Long Distance Fishing Port. Here, there was the chance to enjoy the wonderful view of "Santa Maria Manuela" lugger. Seen the South Terminal, the participants returned to Aveiro for the last part of the course, again on the rails, destination Bobadela.

It's important to mention the night before, when the entourage was surprised by a Welcome Dinner, having as a host José Luís Cacho and Rui Paiva, President and member of the Aveiro Port Administration Council.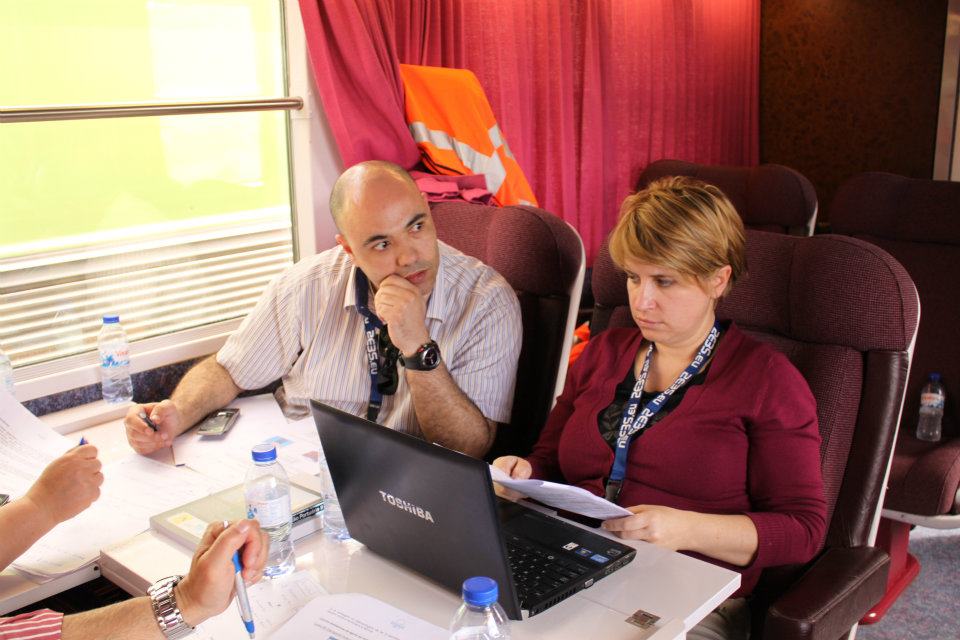 The album with the full photographic report of this debut of "Life Rail" in Portugal, is available here
2012-08-20